First Studer OnAir 500 Modulo Sold To K Q E D Public Radio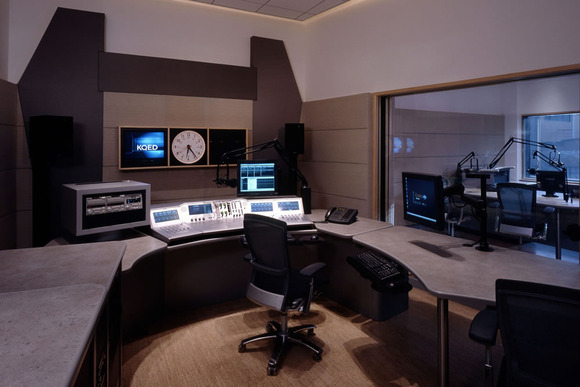 October 28, 2004
San Francisco's KQED Public Radio (88.5FM), the most-listened-to public radio station in the United States, has just gained the distinction of being the first broadcaster in the world to purchase Studer's new OnAir 500 Modulo. Chosen for the station's Sacramento bureau, the modular digital mixing console is expected to be installed and operational by the end of November.

With five larger OnAir 2000 desks already in use at its headquarters on Mariposa Street in San Francisco, KQED is certainly no stranger to the Studer brand. One of the OnAir 2000s currently serves as the station's on-air desk, while the other four are set up in production studios that – like the on-air room – have recently been renovated as part of KQED's ongoing conversion to an all-digital format.

"We standardized on the OnAir 2000s for all of our production rooms and the on-air room so that our operators could very efficiently move between any of those environments without a learning curve," says KQED Public Radio Director of Engineering Dan Mansergh. "Both the audio quality and functionality of the desks are very nice, and our on-air and production staff like them very much. I've also been very happy with them from an engineering standpoint because the reliability has been excellent. Our on-air desk has been on permanently since it was installed a year and a half ago and it hasn't given us any problems. It's very solid."

When the time came to transform KQED's Sacramento bureau from a small reporter base into a mid-sized production facility for Bureau Chief John Myers and Region Reporter Jason Margolis, Mansergh felt justly confident in again turning to Studer's OnAir range.

"While out at NAB earlier this year, I was told that a modular version of the OnAir 500 would shortly be available, which could provide us with a healthy number of inputs, nice amount of flexibility and, very importantly, enough channels to accommodate at least four studio microphones, several call-in lines and anything else that we might want to run through the board," he says. "It looked to be a highly appropriate choice, and seeing that its operation would be similar in many respects to that of our OnAir 2000s, I was very comfortable in specifying it."

Located across the street from the California State Capitol building, the Sacramento bureau occupies the ground floor of a former bank, the vault of which has now been converted into a control room where the OnAir 500 Modulo will reside. "Forum, our live talk show, which is two hours every weekday, often hosts guests from the capitol city, especially when politics are the focus," Mansergh notes. "So it will soon be extremely convenient to have those guests simply be able to walk over to our bureau, get them hooked up with our main studio via ISDN and be on the air. Needless to say, we're really looking forward to installing this desk and getting the new studio up and running."

Reaching nearly three-quarter of a million listeners each week, KQED 88.5FM (89.3FM in Sacramento) possesses one of the strongest public radio signals in the state of California. Dedicated to informing, educating and entertaining listeners throughout the Bay Area and beyond, the station's diverse 24-hour broadcast schedule features productions from NPR, PRI and the BBC, as well as many of its own award-winning news and public affairs programs.