Bill Fertig gives Full Backing To Studer Vista 5 SR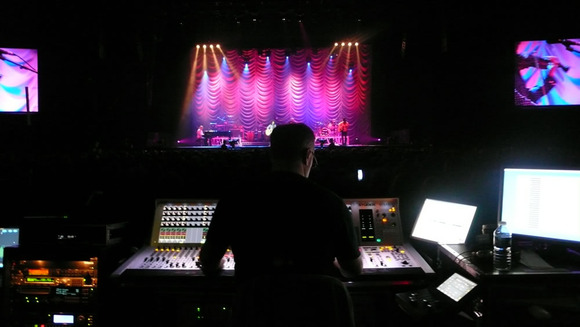 May 13, 2008

"This will be the console I will use for the next five years," promises Katie Melua's sound engineer
Embarking on her third European tour Katie Melua has been privileged to have her sound mixed for the second time by experienced US engineer Bill Fertig, using the pedigree of 60 years of Studer console evolution.
It had been Fertig's quest for a superior surface to the digital desk he had used last time around that led him on a journey that would lead to Studer's new Vista 5 SR — the live version of their successful Vista 5 broadcast desk.
"After the last tour I had been looking for a console that was quicker to use," states the sound engineer. "When you are talking about a live mix you have to consider a lot of paging, which is very queue intensive. Although digital consoles can make things much better, and you can recall most of your settings, there is often a 'slow down' trying to get to where you want to go. The Vistonics™ platform solves all these problems."
Bill Fertig's introduction to Vistonics had come via the Soundcraft Vi6™ — on a show in Mexico City where he was mixing Colombian artist, Juanes. He found the desk both quick and intuitive.
"A week or so later I ended up in LA, so I took a ride up to Harman and picked their brains about the Vi6." At the same time he took the opportunity to inquire about the Studer Vista 5 SR. "While I was familiar with Studer I generally hadn't had much experience of broadcast trucks; I knew [the architecture] had been the inspiration for the Vi6 and I also knew it was going to be in a different class."
Bill contacted Studer, who arranged for UK rental company Capital Sound Hire (who had also serviced Katie Melua's last tour) to provide a DSP-rich, purpose-optimised 32-fader FOH desk for the tour — tailored to Bill Fertig's input and output requirements.
Via four DSP cards, the sound engineer has access to 84 mic/line inputs, eight line outputs and eight AES I/O on the Stage Box … plus 16 line inputs/48 line outputs, 16 AES I/O and four MADI ports in the Local Rack. Using a MADI optical snake and RME HDSP MADI card, the only add-ons Bill required were a reverb outboard and a Metacorder HD recording system — allowing him via the MADI link to record and play back the show via the second set of inputs on the desk.
Reviewing the console, he says, "The ergonomics are the same as on the Vi6 but the architecture is way different. Studer is all about DSP. You can take your input on the Stage Box and patch it into a DSP channel and put it straight on the control surface — it provides the option of having a very output-intensive or input-intensive desk. If you are doing something on a project basis and the project gets a lot bigger you don't have to rewrite [the show], you can just add DSP, and that's the cool thing about this desk."
For the Melua tour Bill Fertig is running nearly 60 inputs, with some intensive channel patching. "It's easy to use the display, which has similar colours and icons to the Vi6. In fact the first thing that struck me apart from the Vistonics interface was the sound — just listening through headphones to know there was a great preamp meant this was enticing. In fact the Vista 5 SR is super exceptional — better than any other SR console, hands down. This far surpasses anything I've used before and it will be the console I will use for the next five years."
Fertig explained how he had been able to abandon $15,000 worth of compressors. "In rehearsal I had a MADI hard disk recorder and worked on mixes — and there was no difference without the compressors, so I just got rid of them. It was not only a rental saving but one less thing to go wrong — and besides, with the AD-DA involved you would also lose something there."
But overall he notes the compatibility of the Vista 5 SR's design with the live sound engineer's requirement. "Studer went into this with a different mindset and have got it exactly right. If you laid out this console in analogue format, where all the knobs and whistles were at your disposal, it would be enormous. Yet this is the smallest footprint, lightest and easiest to use of the lot — everything is where you want it to be and all the parameters and displays just open up."
"The scene writing upgrade also helps to make this a hugely powerful tool. It's way more elaborate in this console than any other I have used." Snapshot filtering and editing is a feature that live sound engineers tend to shy away from, he believes, because scenes are usually not easily editable. "But with this you can isolate any parameter and safeguard the hi-pass filter for example — and then recall at a moment's notice."
Using a variety of output formats — from 5.1 busses to LCR mixing — Studer's acclaimed VSP™ (Virtual Surround Panning) has also been added to his palette. "There's a bunch of great panning options on this desk," he notes, "and the fast panning is particularly cool."
Working alongside system tech Jamie Howieson, the sound engineer — who has mixed artistes ranging from Barry Manilow to Lou Reed over a long career — returns from Europe to the UK to play the Royal Albert Hall on May 4th, before the festival season gets underway.