Maryland Sound Invests In New Studer Vista 5 SR Pair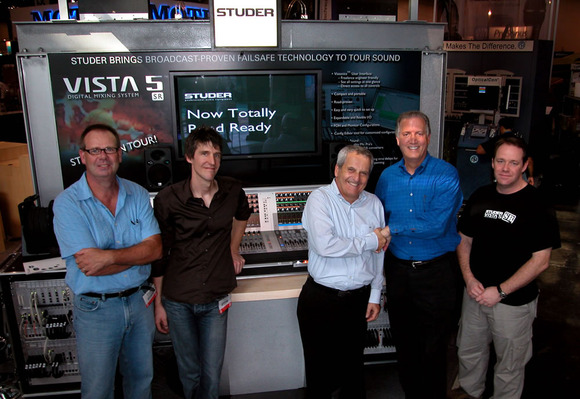 October 11, 2007
BALTIMORE -- Founded in 1966 to serve Frankie Valli & The Four Seasons on a national tour, Baltimore-based Maryland Sound International (MSI) has helped define the leading edge of sophisticated touring sound and complex event production for more than 40 years. In keeping with that precedent, MSI very recently updated its rental inventory with a brand new pair of Studer Vista 5 SR digital live production consoles, which were just officially unveiled at the 123rd AES Convention in New York City.
"We compared the Vista 5 SR with most of the premium touring digital consoles on the market; however, we felt that none of them were quite capable of matching the feature set offered by the Studer," says MSI Founder and Owner Bob Goldstein. "Plus, as technology continues to advance, the Vista 5 SR control surface and components can easily be upgraded via software updates ensuring that these consoles will continue to be state-of-the-art for years to come."
MSI has already taken delivery of its twin multipurpose Vista 5 SR consoles, which will most often be utilized together as a front-of-house and monitor desk pair. The compact 32-fader consoles are each custom configured with 88 inputs and 96 kHz DSP with total redundancy.
It should be noted that MSI considers this purchase merely the beginning as the company sees itself standardizing its premium systems on Studer's Vista platform through the acquisition of an additional eight to ten consoles over the next year or two.
Goldstein cites the Vista 5 SR's unrivaled flexibility and intuitive operation as key reasons behind the company's plan to make a significant investment in a Studer solution. "Engineers, in general, hate limits," he notes. "If you have an idea, you want to be able to implement it without being told you have to settle for something less. Every engineer that has looked at the Studer console has remarked on the ease of use and lack of restrictions placed on what they can do with it. With the potential for 60 DCA/VCAs and up to 300 inputs, the Vista 5 SR presents operators with virtually no boundaries. And I think that once engineers are able to experience this desk for themselves, they'll be asking for it in droves."
MSI Chooses Studer Vista 5 SR Pair / Add One
Goldstein and the MSI team further point to the console's efficient Vistonics™ interface, useful Contribution feature, built-in fiber optic distribution capabilities, and comprehensive channel labeling system as additional important factors in the decision. "Labeling, for example, on the desk is really easy; it allows you to write out a real description for each channel rather than limit you to a cryptic four to six character abbreviation. That really helps when you're mixing this many inputs.
"The console also has total redundancy for guaranteed peace of mind, as well as a terrific diagnostics program that has proven itself in the broadcast industry for quite some time now. And, of course, as one would expect seeing that it's a Studer, the sound quality is fabulous," he notes.
The new consoles integrate extremely well with MSI's primary 'racks and stacks', which are Crown I-Techs and JBL VerTecs, allowing the company to take full advantage of the many inherent benefits of Harman Pro's System Architect™ software and HiQnet™ networking, monitoring and remote control capabilities.
Concurrent with the Vista 5 SR's launch at AES, MSI staged an invitation-only event at Manhattan Center Studios where it gave a number of FOH engineers the chance to mix guitar luthier Paul Reed Smith and his band live on the desk. Monitor engineers were likewise able to perform a real world mix on a Soundcraft Vi6™ digital console, which features a derivation of Studer's Vistonics interface.
"We know many folks who could certainly benefit from the Vista 5 SR's features," adds Goldstein. "We plan to take the next six months to demonstrate these consoles to a lot of our engineers and clients, and we're already eagerly anticipating using them at the Times Square New Year's Eve Celebration in New York."
Known as the touring sound company of choice for top artists like Josh Groban, Neil Diamond, Pink Floyd, Hall & Oates, Disturbed and many others, MSI has also notably provided sound reinforcement for the most recent Presidential Inaugurations (2005 and 2001) and the dedication of the National WWII Memorial in Washington D.C. More info on the company can be found online at www.marylandsound.com or by calling 800.76.SOUND.