Rascal Flatts Brings Studer Vista 5 SR Digital Console On Tour To Complete Harman Package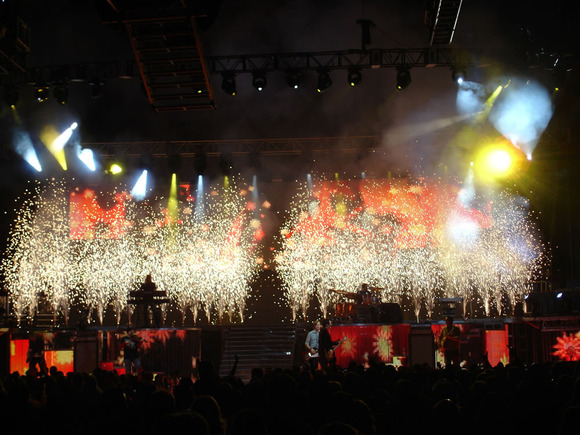 April 23, 2008
Rascal Flatts was the US top-selling artist of 2006—in all genres of music. In order to deliver the best live show possible, Sound Image put together what is currently the largest PA system on the road in the U.S., featuring 90 JBL VerTec VT4889 full-size line array loudspeakers and 32 VT4880 arrayable subwoofers. Two Studer Vista 5 SR digital consoles one in mix and the other in monitor position plus system-wide configuration and control by Harman HiQnet makes the Rascal Flatts system one of the most seamless and progressive systems as well!
Sound Image General Manager, Nashville, Everett Lybolt, was enthusiastic about having not just one, but two Studer Vista 5 SRs: one for the monitors and the other on FOH. Sound Image is also using dbx DriveRack 4800s for speaker management, Crown I-Tech 8000 amplifiers and everything is tied together with HiQnet System Architect.
By each working on their own Vista 5 SR, the FOH and monitor engineer have little problem coordinating. "We can meter, we can see, we can manage everything and troubleshoot from one source," said Jon Garber, long-time front-of-house engineer for Rascal Flatts. In addition, setting up and tearing down is very efficient and fast with the new console. "The Studer sounds great," he said. "It's very smooth and what comes in is what goes out. There's no colouration."
A 50-year pillar of analogue recording Studer's tape machines were a must-have in every high end recording studio up to the late nineties, when the company implemented a remarkable reinvention to become an innovative leader in digital consoles. The Studer Vista 5 SR digital desk converted Stuart Delk, a high-profile monitor engineer, who resisted going digital. Delk has been Rascal Flatts' monitor engineer for five years and up until hearing the Studer. "This console is solid," said Delk. "This is the only digital console I've been willing to tour with, so that says something."
Prior to the Studer, Delk was using two analogue desks, weighing about 1,100 pounds each when in their cases. "My monitor-world footprint took up one 10- by 22-foot area," said Delk. "Now I'm at a third of that size. With the Studer I have more outputs, more inputs and this one desk is doing what three other desks were doing: all my in-ear monitors, my side fills, my flown side fills, my subs on stage and the wedges out on the B stage." Delk can now set up and be ready to go in about 30 minutes, compared to about two hours and 15 minutes previously.
"I'm trying to get away from all my outboard plug-ins, and trying to use more of the dynamics on the desk. I seem to be getting rid of one a day. The preamps and EQ on the Studer allow me to do that with confidence!" said Garber. "I like how everything is one touch away. Usually on a digital console it's 'select' and then go to something. With the Studer you can touch it right there on the screen. If I want a tweak on the kick drum, I touch the screen and tweak on the kick drum."
A special feature Delk and Studer's Jamie Dunn worked out together is the contribute button. "I can solo someone's mix and the contribute button lets me see what is contributing to the mix," said Delk. "Studer reconfigured the software to my specifications, which was really great," said Delk. "It's like getting a desk custom made for me."
For this second major show using the Studer console, set-up went smoothly. "We got loaded into Madison Square Garden at 6:00 am and everything just seemed to flow," said Garber. "If you don't have your stuff together when you come to a place like MSG with so many trucks, you can find yourself in trouble and costing the band lots of money in labor time."
For monitors, the channel bus structure enables each system to have a stage box, which handles the mic pres and the runs back to FOH on fibre. There's also a MADI fiber that runs from the stage box then up to FOH using the configuration editor. The FOH and monitors have completely different channel bus requirements. FOH has 84 mono inputs and 20 stereo inputs. Within that there are eight stereo groups, 10 mono aux, 10 stereo aux, five mono matrix, and five stereo matrix. The monitor console has a different channel bus structure. Delk has 84 mono inputs, 20 stereo, 20 stereo auxiliaries, and 10 mono auxiliaries.
For the in-ear monitors, each member of the band wants to hear something different. Each member wants to be the loudest in his mix. Some guys like a lot of reverb, some guys don't like a lot. "That's why I've got one for every person on stage," said Delk. "I have eight people on stage and nine reverb units. There is one extra for a guest. Brian McKnight has been known to sit in."
Utilising the efficiency of the JBL VerTecs, Delk also installed VT4889 sidefills for the singer. "It's just the vocals as loud as possible in the sidefills that hang facing the stage," said Delk. The singer relies on his in-ear monitors to hear. "These line array systems are very efficient," said Delk. "All the sound goes toward the audience. Nothing resonates off the back of it. When we first switched to this VerTec PA we didn't have the sidefills and he was having a hard time hearing pitch. I got the sidefills going and he's good to go now." Delk does the same for the guitar player on solos. There are wedges turned on when he's doing a solo so he can get control feedback.
Rascal Flatts, the Sound Image team and an ever-growing host of country pop fans are feeling good about the "Still Feels Good" tour — it's proving wildly popular! And behind the scenes Lybolt, Delk, Garber and Dunn continue to feel good about their technology set-up and the sound they're delivering in venues across the country from Madison Square Garden to the Rose garden in Portland to the Country Stampede in Kansas! The tour winds up on August 2nd at the TWC Music Pavilion at Walnut Creek in Raleigh, North Carolina,