Studer goes On-Air in Greenland, and in the Faroes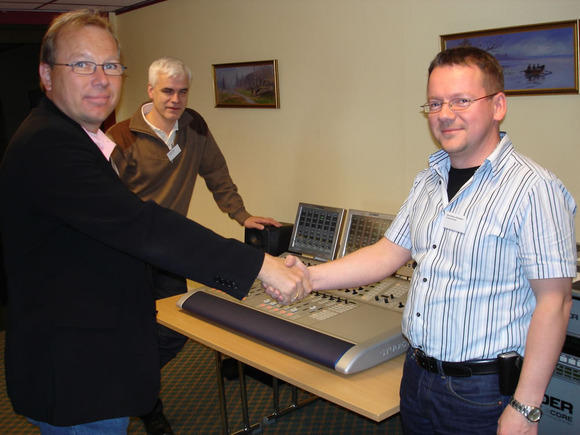 February 01, 2006
They are the last Studer digital consoles before one reaches the North Pole – three OnAir 3000s have been installed by KNR Radio Greenland in Nuuk, just south of the Arctic Circle.
Kalaallit Nunaata Radio (Radio Greenland) is the most important media enterprise in Greenland, broadcasting radio programmes throughout the country. In recent years, KNR has embarked on a modernization programme, acquiring its own TV building and taking the first steps to digitalising its radio facilities. One of the initial phases is the delivery of 3 complete radio studios by Copenhagen-based Kinovox A/S, which has a long business relationship with KNR of more than 20 years standing.
Each studio is designed around a Studer digital OnAir 3000 broadcast console, and is delivered as a turnkey solution, including all wiring and custom-designed furniture. Kinovox assembled all the studio packages in Denmark, and installed them in KNR's premises in less than 2 weeks.
KNR Radio broadcasts about 5,400 hours of material each year, divided into 2,500 hours in Greenlandic, 900 in Danish and 2,200 hours of music, and its news departments deliver news to the whole of Greenland in both Greenlandic and Danish. KNR has been using Studer analogue consoles for 20 years. "Although we wanted to stay with Studer because we like the intuitive interface of the OnAir 3000, we researched the market thoroughly," explains KNR's Technical Director Kristian Heilmann. "We looked at several alternatives to make sure that we got the best deal, and in fact, we were pleased to discover that the Studer solution of the OnAir 3000 offered us the best value for money."
Kinovox A/S has supplied another OnAir 3000 – the first of a series of consoles – to Kringvarp, the national radio and TV station of the Faroe Islands. This too is the first phase in a programme of digitalisation, and will be installed at the beginning of the new year.