Studer's latest digital console makes UK debut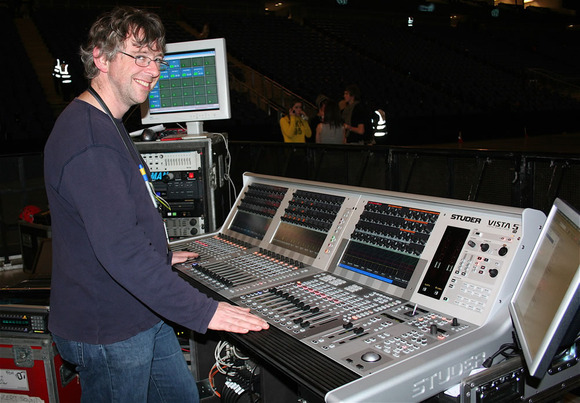 December 12, 2007
The new Vista 5 SR live sound mixing console from Studer has made its UK debut, in the hands of front-of-house engineer Simon Wooler and the Concert Sound team. The event, the LIVE07 concerts staged by The Scout Association, was a showcase for the Soundcraft Studer Group, with Soundcraft Vi Series digital desks handling monitoring duties and orchestral submixes.
The Scout Association provides adventurous activities and personal development opportunities for 400,000 young people aged 6-25 in the UK, with some 28 million people participating worldwide. This year, the Association celebrated its centenary, and marked it with two unique entertainment spectaculars at London's O2 Arena, attracting 30,000 (two full houses of 15,000 people) to watch a cast of 3,000 Scouts, encouraged by guest presenters from children's TV programme Blue Peter.
If there is such a thing as an acid test for a new console type, this was it. Concert Sound mix engineer Simon Wooler was using the Vista 5 SR for the very first time, professing that nothing makes him happier than standing in front of a Midas XL4. Set-up deadlines for the Scouts' production were incredibly tight, so there was no technical rehearsal and no soundcheck, just a 20-minute run-through with the band and orchestra.
Just to recap then, a crowd of 15,000, a cast of 3,000; a 90-piece close-miked orchestra, a 20-piece band and a 40-piece choir, along with guest support bands; no technical run-through and the FOH engineer had never used the console before!
Studer's product manager for the Vista Series Peter Weber had flown in from Switzerland to baby-sit the new console, although Simon Wooler admitted that he "felt incredibly comfortable at the Vista 5 SR. Yes, it feels like a digital desk, but it doesn't feel like I'm making a big leap from what I'm used to in analogue terms. It really helps to have such a comprehensive graphic interface; I can see the console's reaction to me!"
Wooler praised the Vista 5 SR for its operational transparency. "I can see it all on screen, it's very obvious where everything is. You can grab absolutely everything because you can see what all of the layers are doing. And you can grab more than one thing at a time; you can gang channels, multi-select channels, see all the auxes, see where the sends and auxes are going – nothing is buried. And it sounds great!"
His verdict is echoed by Concert Sound's system designer Tim Peeling. "The Vista 5 SR is a fantastically flexible console, and I'd love to take it out! It sounds stunning, and importantly, from a software point of view, it is completely finished rather than being a work-in-progress like so many digital desks."
For a new console, the Vista 5 SR has many tried-and-tested elements; this third-generation digital console employs the Vistonics™ user interface, Studer's patented technology already familiar to broadcasters, a version of which has already proved popular on Soundcraft's Vi Series™ of Digital Live Sound consoles. Vistonics uses an array of encoders mounted directly into TFT screens to give immediate viewing and access of channel and output parameters. As Simon Wooler can testify, engineers are able to use the console within minutes, while experienced users become more creative, thanks to the speed of operation.
The Vista 5 SR comes with preset configurations for Front-of-House and Monitor use. A standalone Config Editor tool allows the channel/bus structure to be customised, all of which can be saved for each particular show setup and instantly recalled from memory or a USB stick at a later date. Another key feature of the Vista5 SR is its expandable I/O system, allowing the whole range of available Studer D21m Series I/O cards (including Cobranet and Aviom A-Net) to be added to the system. The MADI standard is used for the optical snake link from stagebox to FOH rack – with the option to add a redundant snake for increased security.
And Studer's renowned sonic performance comes from the design of high quality mic preamps, ultra-precise AD/DA converters and 40-bit summing busses.
At the other end of the vast O2 Arena, Gary Sylvester and Matt Manasse had created a little piece of Soundcraft digital heaven, with a Vi6 console for mixing monitors and a Vi4 to sub-mix the orchestra and send to the Studer Vista 5 SR.
Monitor engineer Gary Sylvester had used the Vi6 in front-of-house situations, but the Scouting extravaganza was the first time he'd mixed monitors on this console. The day before the show, Version 2 software was loaded into the desk!
"I'm really happy with the Vi6, I've felt more confident than I've ever been before on a digital desk. Usually I feel as though I'm flying by the seat of my pants, but not this time. I've been working with 64 inputs, and 24 outputs, which is why we assigned the Vi6 to this job, and gave the Vi4 to Matt Manasse, who has eight submixes for the orchestra. There's a third split on MADI because we've recorded the show."